Frequently asked questions
My remote is out of synch with my sign. How do I fix this?
---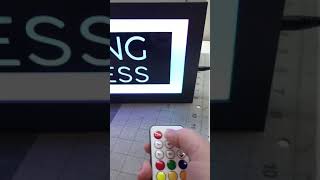 To synch your remote back to the lights, ensuring the appropriate color shows when respective button is pressed... Make sure the sign is plugged in and turn the sign off with the remote. Then press the "auto" button. Three little lights will appear in the corner. Press the blue button until the lights appear in this order: blue, green, red Then turn the sign off and back on using the off/on keys. This should make the remote work again with the correct colors. Best way to test is with the red, blue and green colors.
---
I have a design of my own. Can you put it on a sign?
---
Absolutely! We are happy to work with you to make a custom sign with your design. You can either send us your artwork, or we can help design something for you. Please visit our custom section for reference of sizing and pricing.
---
What's the largest size sign I can order?
---
The largest sizes we offer are: 30"x12" 18"x18" 20"x15" We can customize any size up to the above max sizes. Please visit our custom section for reference of other sizes and pricing.
---
Is there an additional charge for personalized or custom signs?
---
All graphics and design work is included in the product price. We will work with you on your design until you are 100% satisfied and love it!
---
What if my item arrives damaged?
---
We take pride in our work and ensure every item leaves our shop in mint condition! However, we know and understand shipping damages can occasionaly occur. If your item arrives to you damaged, please take pictures and contact us within 24 hours of delivery so we can begin to resolve the issue.
---
Can I cancel my order?
---
Yes. If your order has not shipped, you may cancel your order. If cancelled within the 2-day grace period, a full refund will be granted. If cancelled after the 2 days of order receipt, we will refund 50% of the total order. The other 50% goes toward the cost of the materials used to make the order, as well as any graphic time incurred.
---
What if my package is "returned to sender" and sent back to seller?
---
If your package was returned to sender due to an incorrect address provided on your order or because it was deemed undeliverable, seller will either re-ship the item once we've received the package back or provide a refund.

If buyer opts to have the item re-shipped and there was no fault by seller or USPS, shipping falls to buyer.
If buyer opts for a refund instead of re-shipping, a minimum $20 for initial shipping and handling (if original shipping cost more, the total amount + handling fees) will be deducted from total refund amount. Refunds are only issued if requested with the refund window of 3 months from purchase.
---
If I decide to return my sign, how much will my refund be?
---
Once the item has been returned in its original condition, we will refund the total amount of your order, minus a $20 restocking fee, per item.
---
Returns: What if the seller doesn't receive my returned item?
---
Please be sure to include tracking on your postage for any returns or exchanges. This will allow us to track the item and be able to file a claim should the item get lost in the mail. We must receive the item back in its original condition to be able to provide a refund. Should the item not be received by the seller, and no tracking was provided, the buyer is responsible for the lost package, and no refund will be provided.
---
What is your production time?
---
All of our items are made to order. Our production time varies throughout the year as we have peak times, which extends production. Please refer to the product description for our current production time. You can also check your order confirmation email if you've already placed an order. We ship USPS priority mail, 2-3 days. We do not offer expedited services as we work on orders as quickly as possible, in the order received.
---
---